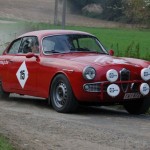 Historic rally promotions is for more than 15 years active in the historic rally scene. Kurt Vanderspinnen started in the regularity world with a smal MG B Roadster. This had to move for an faster and more enjoyable Alfa Romeo Guilietta Sprint from 1959. With this small car several general and class wins were obtained in Belgium and international events, as Antwerp-Middelkerke, Le Jog, Targa Rusticana, etc.
In 2003 it was time to make the move from road rallying to stage rallying, with a NSU TT. At once Kurt became Belgian Champion in its class in 2003, thanks to the help of co drivers Erwin Berkhof and Filip De Munck. During the 2004 season, the Ford Lotus Cortina was bought, in order to compete in the FIA rallies throughout Europe. This car brought us many class wins in Omloop van Vlaanderen, Ypres, Midnattsolssrallyt (Sweden), Rallye du Var (France), Vltava Rally (Tsjechië), etc.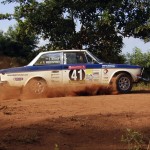 In 2007 the team competed in 'The World's Greatest Rally', the East African Safari Classic, with the Volvo 142 S. With Erwin Berkhof in the co drivers seat, the Kurt finished this grueling event, despite some technical problems, at the 33th place.
In 2008 and 200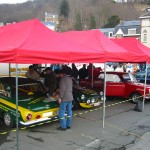 9 the team competed with the Volvo 142 S and the Lotus Cortina in several European events, and recently the team started the development of a very exiting car : the Alfa Romeo GTV6. The car will be ready in Group A configuration for the 2010 season.
In 2004 the team decided to deal its large experience with other historic rally drivers and enthusiasts. The 'Rally Rental and Service' department is offering several well prepared cars for rent for regularity and stage rallies, together with the fully equipped service team. Since several teams enjoyed the pleasure of driving our cars and/or the professionalism of the service crew.
In 2010 it was time to go for a championship, the FIA Historic European Rally Championship with the Lotus Cortina. This car is competing in the Category 1 class as the challenger against several Porsches 911 2.0 l. It has been a tough but enjoyable competition where the Lotus Cortina stranded at a few points in the overall championship on the second place behind the much more powerful Porsche of the German Pfeiffer.
In 2011 Kurt decided to make the move to the Category 2 of the historic rally scene with the development of a Ford Escort Mk1. The upgrade and the development of the car took quite some time, but the team managed to build a very nice and competitive car. As a compensation for all the work, the team finished at the end of the season 5th overall in the Rallye du Var.
The development of the Escort Mk1 continued during the 2012 season, and team's ambition is to obtain several nice results in the FIA European Historic Rallies, as well as some smaller events. Although the focus has always been on rallying, a small deviation is in the make towards historic track racing, with the achievement of a very special car, a Brabham Formula 3 car, the BT35! More to come…
In collaboration with